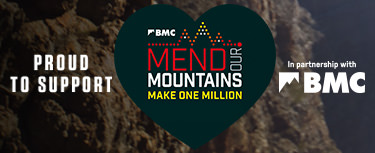 SNOW+ROCK HELPS THE BMC TO MEND OUR MOUNTAINS
As one of BMC's recommended retail partners in 2017, Snow+Rock is delighted to announce that we have now become partners for the Mend our Mountains: Make One Million campaign. 
The aim is to raise £1 million to repair paths in the UK's 15 National Parks. The appeal will last all year long, with activities taking place to encourage outdoor lovers to fundraise for the vital repair of paths across the hills, mountains and landscapes of Britain.  
This is close to the heart of Snow+Rock, as it has been our mission since 1982 to get people outside and enjoying the beautiful outdoors. This passion for the outdoors means working to protect our great landscapes and parks so they can be enjoyed for future generations to come. 
Greg Nieuwenhuys, our CEO said: 
 "We are delighted to cement our partnership with the BMC through the sponsorship of their Mend Our Mountains: Make One Million campaign"
"This enables us to further engage with the British climbing and hill walking community, as well as supporting the fantastic work the BMC undertakes to ensure continued access to the landscapes so many of us hold so dear." 
Dave Turnbull, BMC Chief Executive said: 
"We are thrilled to be launching Mend Our Mountains: Make One Million. This is a flagship initiative for the BMC and the BMC Access and Conservation Trust, which shows our commitment to safeguarding the outdoor and adventurous environment to the benefit of everyone."
"The campaign is a collaborative effort with a UK-wide coalition of organisations, businesses and campaigners, as well as the public. To reach our ambitious target we need everyone to do their bit. We all benefit from these wonderful places and we all have a role to play in looking after them."
If you want to get involved then you can go to Mend Our Mountains and donate now 
Snow+Rock became recommended retail partner for the BMC in September 2017, formalising a long-running relationship to support the BMC's vital access, conservation, safety and youth work on behalf of all climbers and hill walkers. 
BMC members benefit from a 15% discount that can be used in-store and online. Just present proof of BMC membership in-store or obtain the online code by logging into the BMC membership area. Full T&Cs apply.
Join the BMC now for your 15% discount* at Snow+Rock