A layering system is a complex thing. What works for one person may not work for another. Layering is the best way to keep warm on the mountain, it is more versatile and offers far greater warmth effectiveness than a single thick layer. The baselayer is the base of the layering system; it is vital to get the correct baselayer. To help you choose the right baselayer we have put together a list of key areas that you need to think about when looking for your next baselayer.
The weight of a baselayer has a massive effect on the warmth it produces. The heavier the baselayer, the warmer it will be. Generally, there are three different baselayer weights.
A lightweight baselayer is a thin layer that goes next to your skin. It is critical that this layer is comfortable on your skis and is fitted closely for the best moisture management.  When worn on its own, it is ideal for mild to cool conditions with a high level of activity involved.
A midweight layer can be worn as a warmer first layer or as a second layer, over a next to skin layer to provide a combination of insulation and moisture wicking. On its own, it is ideal for moderately cold to cold conditions with a medium level of activity. Combined with a lightweight layer underneath or a heavyweight layer over it, to maximise its warmth capabilities.
Almost always worn over a lighter weight layer, a heavyweight layer is designed to add extra insulation. These baselayers are generally worn looser that lightweight layers and are often mistaken for mid layers due to their thickness and insulation capabilities. Heavyweight layers are ideal for cold conditions with any level of activity involved.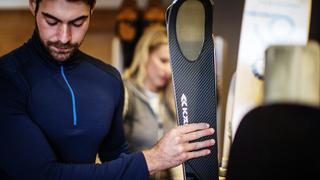 Different materials work in different ways to optimise the bodies temperature when out in the cold. The majority of baselayers today are comprised of either synthetic fibres or merino wool. Both of these fabrics have wicker properties that removes moisture and perspiration away from the skin and disperse it on the outer surface. Both materials have their benefits and drawbacks in different situations.
Synthetic baselayers a largely made from polyester and polyester blends. These Baselayers are quick drying, lightweight and have superior wicking abilities. Synthetic baselayers use man-made fibres, meaning they generally cost less than merino wool baselayers but are not as warm.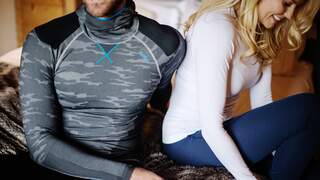 These baselayers use the wool from merino sheep, the toughest sheep on the planet, found in the New Zealand Southern Alps. The benefits of a merino baselayer outweigh the slightly higher price tag that it carries with it. Merino wool garments are very soft to touch, their fibres are very fine, which means they bend easier than synthetic or traditional coarse wool fabrics, making merino an ideal non-itch fabric to sit next to your skin.
Merino wool baselayers also offer a higher standard of warmth compared to its synthetic counter partner. The natural fibre protects the merino sheep during the coldest of winters day by the development of thermal retention properties even when wet.
Unlike synthetic baselayers, merino wool has antibacterial properties due to the lanolin and keratin wax produced by sheep. These two substances have powerful antibacterial and antimicrobial properties that help to protect from water and bad odours forming. If needed a merino wool baselayer can be worn for days, even weeks at a time without needing to be washed.
The fit of a baselayer is extremely important, a poorly fitted baselayer will have a significant impact on the performance of the baselayer. As it is the first layer, the nearest layer to your skin, you will want a fairly close fit. The baselayer helps to hold in your body heat, whilst wicking away any moisture and perspiration. A looser fitting garment will allow air to flow between the baselayer and your skin, removing any heat. Heavyweight baselayers can be worn looser, over a close fitting first layer. Although looser fitted, this layer will still be fairly fitted. 
A baselayer top should cover all exposed areas and give you the ability to tuck it in whilst still fitted tight. When sizing, pick your standard t-shirt size as the fit will be tight by design, there is no need to size down to get a tight fit.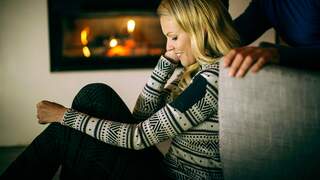 Bottom baselayers will also fit closely. The same theory goes into the bottoms as the tp, which means a snugger fit will offer more warmth. These should fit to the bottom of your lower leg and rest around the ankle area, unless a ¾ bottom. Going with the same size as your standard under size will be adequate when sizing baselayer bottoms. 
Modern compression gear uses 'graduated technology' constructed from specially designed seams and panels. This means that it puts the most pressure on your extremities such as your wrists and ankles and gradually reduces this pressure towards your heart.
This technology delivers a controlled amount of pressure, in all the key places, to improve your venous return - the rate of fresh, oxygenated blood to your muscles and deoxygenated blood back to the heart - and reduce lactic acid. 
Studies have shown that consistent pressure applied by compression wear improves the flow of oxygenated blood by up to 40%. This increase in oxygen has significant benefits that include; increased recovery speed, reduced muscle fatigue, increased circulation and heat, less cramp and reduced risk of injury. 
When buying compression clothing you'll notice that your recommended size is not determined by your regular measurements but by BMI sizing using your height and weight to ensure it fits your body properly. This means compression clothing will fit tight, much tighter than standard baselayers but not to be painful or restrictive to your movement.
Don't be fooled into thinking the tighter it is the better it will perform. It must fit your body properly; too tight compression can prevent circulation. Most importantly, it should be comfortable, a brand that works for one person may not work for another.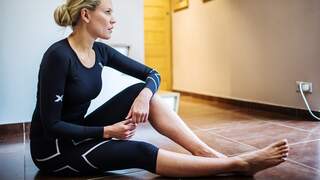 Layering is the best way to keep warm. Layering works by trapping air which is heated by your body temperature, the more layers, the more air is trapped. This means that multiple layers are far more effective than one single thick layer. A layering system for skiing should consist of a baselayer, lid-layer and outerwear.
The amount of layers you wear is a personal preference depending on the weather conditions and how much you feel the cold. Finding a baselayer that best suits your needs is just the first step in finding your perfect layering system. The mid-layer is the next, and possibly the most confusing step. See our Art of Layering: Mid-Layer to help you choose the best mid-layer for your needs.