There's nothing better than booking your next ski holiday, it is when the excitement really starts. It's time to sort through all your ski gear and see what fits and what needs updating. If you decide that it is time for a new jacket, but don't know where to start, don't worry, we have created an easy ski jacket buying guide for you. 
Ski jackets come in many shapes and forms, it is important that you match a jackets attributes to your needs. Predominately there are three different types of jackets, Shell, Insulated and Softshell jackets, that all have different attributes.
An uninsulated shell jacket, also referred to as a hardshell, is the most versatile type of jacket on the market. The majority of skiers will wear a hardshell throughout the whole season, adding and taking away layers when the weather dictates. A shell jacket is usually waterproof enough to stand the worst snow storms and breathable enough so you don't overheat during sunny spring days. If you are going to have just one jacket for every type of skiing and condition, then a shell is definitely the choice of jacket. See how to layer under a shell jacket here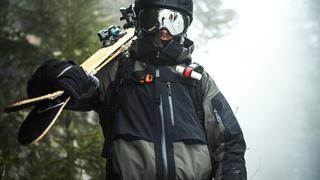 Waterproof ratings are probably the biggest determinant of price when it comes to ski jackets. Shell Jackets come in a variety of waterproofing, usually ranging from 5,000mm to 20,000mm or higher. These ratings are determined by a water column test, the test places a column on top of the ski pant fabric, water is then added into the column, in mm. The fabric is observed over a 24-hour period to see how much it withstands before droplets seep through the fabric.  The higher the number the more waterproof the jacket will be. If you are heading into an environment with extreme weather, a jacket with a waterproof rating of 20,000mm is recommended. High end fabrics, such as Gore-Tex will not give you a rating, instead they guarantee that it will keep you dry. 
If you are planning to ski in cold conditions the majority of the time, then you might consider an insulated jacket. These jackets will feature an outer shell, for waterproofing, and a layer of insulation beneath it. This layer will either be down or synthetic insulation, such as PrimaLoft.
Synthetic insulation is a good choice for snow outerwear as it is more durable and reliable when in wet conditions than its counter partner, down. Usually the thickness of synthetic insulation is measured in grams per square meter, this measurement is not the weight of the jacket. As a rule of thumb, 50-100g of insulation are great for spring and autumn conditions or when wearing technical mid-layer beneath, whilst jackets with 100-200g of insulation are ideal for colder conditions.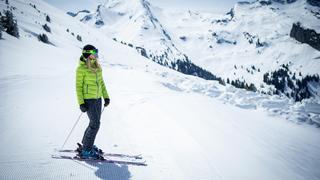 Down Jackets on the other hand have an incredibly high warmth-to-weight ratio that is so valuable in cold condition. Often seen to be puffy in appearance, down jackets are lightweight and extremely compactable. However, downs' drawback is its wet weather performance. Once wet down becomes less efficient, making less than ideal in extremely wet/snowy condition however, it is a great choice in cold dry conditions.
A softshell is a versatile jacket that is suitable for many outdoor activities, the woven outer made from polyester and nylon creates a soft, stretchy fabric that still has some waterproof properties. Softshells are generally less water and wind resistant than hardshells but delivers a superior breathability. Even the best hardshell jackets will get a bit clammy if you work hard enough in it, having a higher breathability, softshells allows far more perspiration out during high output activities, leaving you feeling less clammy than when in a hardshell.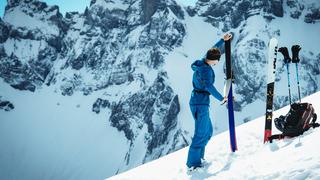 Thanks to a DWR coasting, softshells keep moisture out and does not get saturated when it comes in contact with snow, making it an excellent choice of jacket for warm spring days or a technical mid-layer for colder days.  
The type of jacket ultimately comes down to the type of skier you are. Different skier types demand different attributes from their jackets, to help you with this we have split the jackets into 3 groups.
Majority of people fall into the piste skier category, if you are a piste skier, you will spend most of the day lapping the mountain, carving the piste up and occasionally going of piste when there is some fresh snow. The piste skier has the largest choice in jacket type than any other skier.
Depending on how much you feel the cold and what time of year they decide to go skiing, you may pick an insulation jacket to keep warm. On the other hand, if you spend all your time skiing in spring condition then a softshell may be the best choice for you, to keep you nice and cool when the temperature starts to rise. The most common choice for the piste skier, is to buy a shell jacket and layer accordingly to the weather.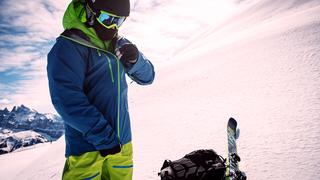 Backcountry skiers spend their life in the backcountry, avoiding the crowds, hiking ledges or skinning untouched peaks. Your aerobic output is much higher and you encounter far more extreme conditions than other skiers.
Due to the high aerobic output a softshell will work well to shed heat when touring, however a softshell may not protect them from the harsh conditions found all year round. A softshell is ideal for wearing during the spring time as an outer layer and then as a technical mid-layer during the autumn and winter time under a technical shell jacket.
A technical shell jacket is idea for backcountry skiers as they are far more waterproof than softshell jackets and make it easy to shed heat using specialised zip vents. By wearing a softshell under a technical shell jacket, you can remain dry and protected from the harsh winter conditions, yet cool and breathable whilst hiking.
The freestyle skier spends most of their time in the snowpark, this usually means quick laps and short chairlifts. Whether shredding rails or throwing yourself off jumps you'll be constantly active. This leads itself to a shell jacket to protect you from getting wet when taking a bail and allows you to add layers underneath during the colder months of the season. Alternatively, during the spring time you may opt for a softshell to keep you cool whilst the sun is shinning.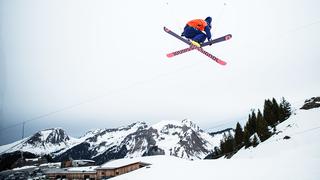 Aside from the type of jackets outlined above, the features included in ski jackets may vary considerably, it is up to you to decide what is important to you. 
Most ski jackets will have a hood, what differentiates them is the amount of adjustment of the hood, whether its helmet compactable or whether it is removable. 
Wrist gaiters can come in two forms, a simple inner cuff or an over the hand with thumbholes, although the latter is warmer and adds extra coverage, some people find they get in the way.
Vents can usually be found in the underarm area or around the chest. These zip vents will allow you to cool down by promoting air circulation and are often mesh backed to stop snow from entering the jacket.
A powder skirts is a snow gaiter that goes around your waist to stop snow from getting up your back if you take a tumble. Although fairly common a snow gaiter may have stretchy panels, ski pant loops or it may be removable.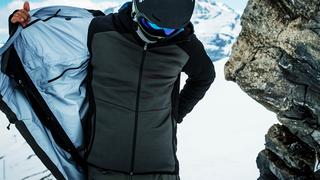 The final aspect to consider is the fit and style of the jacket, this can range from slim fitted, short cropped jackets to big and baggy cuts favoured by freestyle skiers. It is important to remember that the fit of the jacket should be based around your layer system to make sure you are warm enough on those cold days and not just fashion. Fit can be broken down into 3 categories, slim, regular and loose. Although these fits will vary in name and cut between companies are a good starting point to finding the best fit for you.