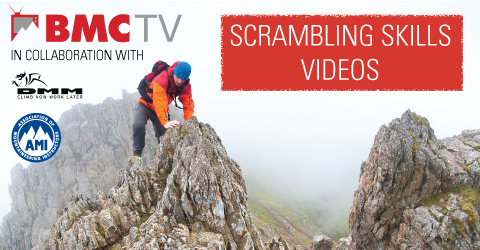 SEVEN VIDEOS TO GET YOU READY FOR SCRAMBLING SEASON FROM OUR PARTNERS AT THE BMC
Spring is almost here and we can't wait to get out and go scrambling over some Great British rocks! Whether you're a seasoned hillwalker looking to branch out onto rockier terrain, or a climber wanting to get on a more leisurely route, scrambling is a great choice for getting outdoors and enjoying classic mountain adventures. The British Mountaineering Council, together with the Association of Mountaineering Instructors and DMM, have put together a collection of scramble skills videos to hone your rock-ready skills.
As a scrambler you'll want to keep your rack light so you can fluidly move over rocks whilst keeping you and your partner safe. Find out which essential gear you'll want to pack here:
#2 TO PITCH OR NOT TO PITCH?
When rope scrambling, you'll have to balance decisions based on the terrain, the weather, your gear and yours and your partner's skills. Will you solo without a rope, created pitches, or move together roped up? Check out how to weigh up all these factors:
#3 MAKE A SPEEDY SCRAMBLE BELAY
Do you know your clove hitches from your Italian hitches? Both of these simple rope techniques come in very handy when bringing your partner up whist scrambling. Take a look here:
When it comes to creating anchors for scrambling you can be faced with a wide variety of options. Using your own judgement and friction to create belays, sometimes you may only need your rope and a rock to bring your partner up.
#5 DON'T SCRABBLE, SCRAMBLE!
Edging, wedging or smearing? Do you know what to do with your feet? Are you thinking about your body balance and loose rock as you move on up? Brush up on your skills here:
#6 KNOW YOUR SCRAMBLE GRADES
"Did you remember to pack the guidebook?" "I thought you packed it." Who's heard that before? Sometimes it can be easy to wander off route when out scrambling. Learn how to identify what different scramble grades should feel like and when to back down.
Grade 1 Scramble: Crib Goch, North Wales
A thrilling Grade 1 scramble in Snowdonia, one of the country's most popular ridge scrambles. It's appropriate for experienced mountain walkers who are comfortable with heights looking for an adventurous day out in the hills.
Grade 2 Scramble Aonach Eagach, Scotland

The Aonach Eagach is a serious Grade 2 scramble. The ridge is long, committing and extremely exposed. Good weather, appropriate footwear and scrambling experience are required. Put it on your list!
Thanks to The British Mountaineering Council (BMC) for these videos. BMC is the representative body that exists to protect the freedoms and promote the interests of climbers, hill walkers and mountaineers, including ski-mountaineers. BMC members benefit from 15% off at Cotswold Outdoor/Snow+Rock.
Visit their website: www.thebmc.co.uk